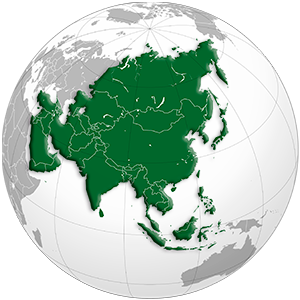 Asia is the largest of the continents, both in area and in population. It covers one-third of the solid parts of the Earth's surface and is responsible for housing nearly three-fifths of the world's population.
Asia is composed of 48 countries, so it can be hard to narrow down where to begin your visit. It also contains the two most populated countries in the world, China and India!
We offer activities in some of these countries. The countries were selected based on the offers and our relationship with the operators that guarantee the best experiences.
Central Asia: Central Asia is made up of Tajikistan, Uzbekistan, Kazakhstan, Turkmenistan, and Kyrgyzstan. While it's not as popular as other destinations in the region, more and more travelers have started to explore these countries in recent years. Some of it's most popular attractions are the gas crater known as the "Gate of Hell" and the cities of Uzbekistan's ancient Silk Road.
East Asia: East Asia is one of the most traveled regions for international visitors. It's made up of China, Mongolia, North Korea, South Korea, Japan, Taiwan, and Macau. It's home to more than 22% of the global population as well as some of the top city break destinations in the world. It also boasts some of the region's most impressive natural and human-made wonders like Mount Fuji, Huangshan Mountain and The Great Wall of China.
South Asia: South Asia is the most densely populated area in the world. It's where you'll find destinations like Sri Lanka, Bangladesh, India, Afghanistan, Pakistan, Bhutan, Nepal, and the Maldives. They are most well-known for impressive cultural heritage sites like the Taj Mahal and the Sigiriya Fortress.
Southeast Asia: Southeast Asia is a popular destination for budget travelers. It's divided into 15 countries with the most popular countries for budget travelers being Cambodia, Indonesia, Laos, Malaysia, Myanmar, the Philippines, Singapore, Thailand, and Vietnam.