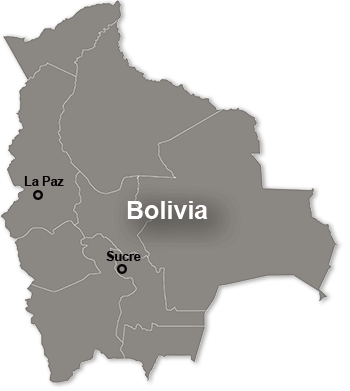 Bolivia has more than 13 different types of geography – making it one of the countries with the greatest biodiversity in the world and causing the climate to vary drastically with altitude and from one climatic zone to another. The climate in Bolivia ranges from humid and tropical to cold and semiarid.
Many people think of Bolivia as primarily Andean country or think of Lake Titicaca or the Uyuni Salt Flats first. What they do not know is that the Andean region covers less than a third of Bolivia. Don't miss out on the other two-thirds of the country with beautiful tropical destinations such as rainforests and waterfalls, amazing national parks, the largest city in Bolivia, wonderful historic sites, all influenced by some of the less known ethnic groups in Bolivia such as the Moxos, Guarayos, Ayoreos, Guarani and Chiquitanos.
Stretching from the majestic icebound peaks and bleak high-altitude deserts of the Andes to the exuberant rainforests and vast savannahs of the Amazon basin, Bolivia embraces an astonishing range of landscapes and climates. This mystical terrain boasts scores of breathtaking attractions including stark otherworldly salt pans, ancient Inca trails and towering volcanic peaks.
Landlocked at the remote heart of South America, Bolivia rewards the adventurous travellers and encompasses everything that outsiders find most exotic and mysterious about the continent.