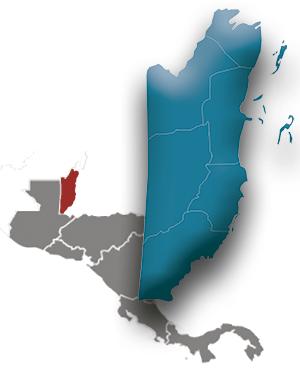 As a country with around 36% reserve terrain and 608,740 acres of marine reserves, Belize is a significant conservation body within the Mesoamerican ecosystem. This biodiversity is one of the main focuses of sustainability and attraction for Belize.
Hugging the coast of Belize, the Belize Barrier Reef is the largest reef in the Western Hemisphere and the second-largest in the world. Part of the Mesoamerican Reef, it is also one of the best protected. Azure blue waters teeming with wildlife and vibrant coral attract visitors worldwide and inspire conservation of its precious ecosystems.
The Belize Barrier Reef was named a UNESCO World Heritage Site in 1996 for its size, array of reef types, pristine environment, and outstanding universal value. There are seven marine protected areas within the Belize Barrier Reef Reserve System World Heritage Site, including the world-famous Great Blue Hole.
Whether you're a beginner at canoeing or really know your way around a boat, Belize offer the waterways for any paddling traveler. Tour companies and jungle lodges also cater to canoe travelers, with some of the best areas being on the Mopan and Macal Rivers in the Cayo District. There, you can paddle through the jungle, see wildlife, then make your way through little villages to get a look at how life is in less traveled areas.
Belize has thousands of caves. They range from easy walks to challenging hikes that can often turn into squeezes, crawls, climbs, rappels and swims. You just need to choose your cave accordingly your experience.
The Belize Barrier Reef is home to the Great Blue Hole–one of the greatest geological wonders of the world.