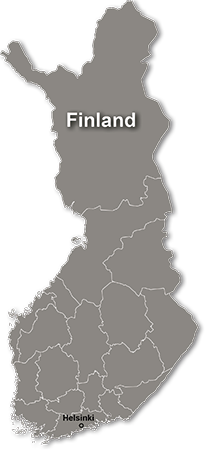 Finland, a Nordic country in Northern Europe, is a beautiful tourist destination with its stunning natural beauty, vibrant cities, and unique culture.
Helsinki, the capital of Finland, is a vibrant city with a blend of old and new architecture. The city's must-visit attractions include the iconic Helsinki Cathedral, the Temppeliaukio Church, and the Suomenlinna sea fortress. The city also offers a wide range of museums, galleries, and restaurants.
Finland is famous for its natural beauty, and the country has several national parks for visitors to explore. The Urho Kekkonen National Park, located in Lapland, offers visitors a chance to experience the Arctic wilderness, with its snow-capped mountains and vast forests. The Nuuksio National Park, located near Helsinki, offers visitors a chance to escape into nature with its peaceful lakes and hiking trails.
One of Finland's most famous attractions is the Northern Lights. The Aurora Borealis can be seen in Lapland, especially during the winter months, and attracts visitors from all over the world. Other winter activities, such as husky safaris, snowmobiling, and ice fishing, are also popular among visitors.
Finnish culture is unique and fascinating. The country is famous for its sauna culture, with over three million saunas in the country. The Finnish sauna experience is a must-try for visitors, and there are several public saunas in Helsinki and other cities. Finland hosts many heavy metal music festivals annually.
To sum up, Finland is a stunning tourist destination, offering a combination of scenic beauty, lively cities, and distinctive culture. Visitors can indulge in Helsinki's sights or explore the Arctic wilderness, finding plenty of activities to choose from.