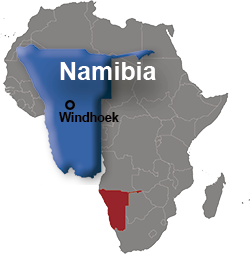 Namibia is world famous for the highest dunes in the world at Sossusvlei and for the Etosha National Park, one of world's greatest conservation areas.
Namibia is one of the most fascinating and diverse countries in the world and a number 1 travel destination in Africa.
Welcome to the land of the oldest desert in the world, an extremely unique environment which stretches from South Africa, along the coast of Namibia, and into Angola to the North. It is also home to one of the tallest dunes in the world.
Namibia is truly unique, influenced by various cultures during colonization and now reborn from the shadows of Apartheid in 1990. What has emerged is a true sense of unity in diversity, the coming together of at least 11 major ethnic groups, each celebrating their past while working together toward the future.