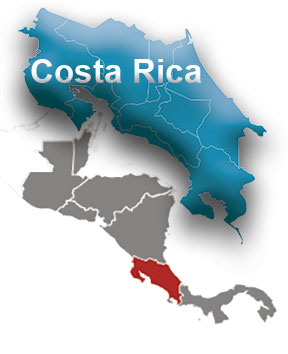 Costa Rica is a country located in Central America that is ranked as one of the most visited international destinations.
The main activities at Costa Rica include beach enjoyment and marine resources, such as whales and dolphin's observation, as well as mangrove swamp's, landscapes, reptilian, sport fishing, surfing, hiking through the National Park's paths, professional diving, the energetic walks to the Chirripo's summit, botanical gardens, protected areas' impressive waterfalls… they are all part of the main product offered by this country.
Ecotourism features as the main product, especially the one that is carried out among the Humedal Sierpe-Térraba; the Golfo Dulce Forest Reserve, the Ballena Marine National Park, the Isla del Caño Biological Preserve and the Corcovado National Park.
The beach's tourism possesses a wide potential in the coastal sector of Dominical-Piñuela; Platanares Beach; Zancudo and Pavones.
The mountain's product identifies itself in the Cordillera de Talamanca's Mountain subunit, where San Gerardo de Rivas and San Vito of Coto Brus stand out as access centers to Chirripó National Park and the Friendship World Patrimony site.